How to sustain curiosity: Ask the Wall
What was the Problem?
Students experience problems in conducting in-depth research on a topic they are interested in, sharing with their peers and acting together, enriching their research with multiple sources and perspectives and maintaining these practices. Curiosity is perceived as a need that can be overcome by question-answer. This perception prevents children from gaining a habit of curiosity. So, "How can we ensure that students gain a habit of sustainable 'curiosity'?"
Solution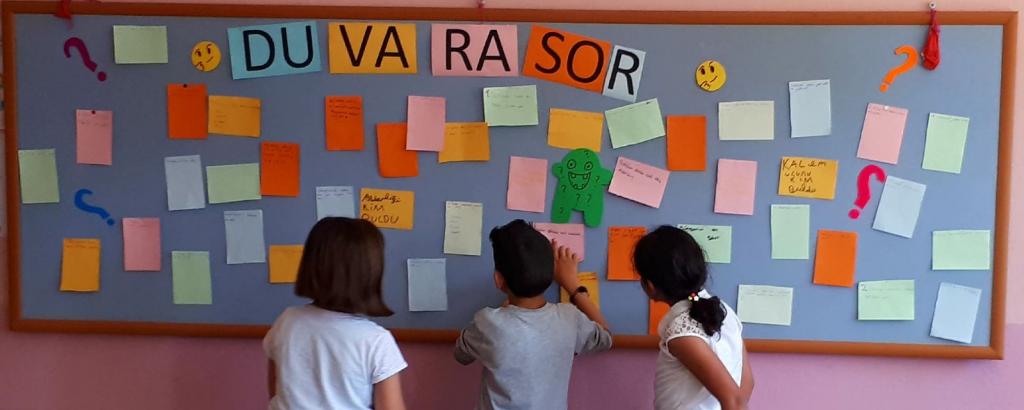 In the problem-solving process where design-oriented thinking methodology was applied; it was found that to increase students' curiosity; curiosity should be transformed into a process and experience that is shared with peers. Curiosity is perceived as a need that can be overcome by question-answer. However, it is not the answers that are valuable for the who is curious; it is the experience of being curious that is more valuable.
The "Ask the Wall" activity was developed upon this need. One day before the activity, the teacher organizes a discussion session with the students on curiosity. The sense of curiosity and the reasons behind it are discussed and appropriate questions are asked on the subjects that the students are most curious about. Thus, the students are made ready for the activity. The teacher and students together prepare a board or a wall called "Ask the Wall" and decorate it to attract attention. The teacher gives everyone small, colorful note papers. Students write the topics they wonder about on these papers and hang them on the board. When the board is full of papers, the students gather around the board. The teacher clusters the topics that are about the same subject. Thus, various research topics emerge. Students create study groups according to the research topics. Each group elects a chairman with open or closed voting and distributes tasks to investigate the topic. Students manage this process. During the time period determined by the teacher, the students investigate their research topics. The groups bring together their research topics and prepare a creative presentation on their topics. One day is determined for all groups to make their presentations. Parents and other teachers at the school are also invited to this activity. The groups present their research topics to the audience. One day after the activity, the teacher talks with the students about their experience. The teacher gets the students' opinions on the sense of curiosity again.
Its Effect
In this process, a positive change was observed in students' attitudes towards curiosity. Students began to gain the habit of doing research on the subjects they wondered. Creating environments where students can share their achievements with their families and other teachers both improves students' presentation and rhetoric skills and encourages them to learn.
Contributors
Adalet Eres (Classroom Teacher), Ayşegül Tekinbaş Özyağcı (Preschool Teacher), Hacer Tugan (Classroom Teacher), Mediha Durgut (Psychological Counselor), Seher Şener (Preschool Teacher), Semra İnan (Classroom Teacher)